We look at the WAGs of the team players. Here is a list of wives and girlfriends who are worth more than their Premier League playing partners.
Arsenal
Perrie Edwards (Alex Oxlade-Chamberlain)
https://www.instagram.com/p/BRj31XlFEo1/
Little Mix's Perrie Edwards & Arsenal FC's Alex "The Ox" Oxlade-Chamberlain have been an item since November 2016, as confirmed by the numerous PDA sessions on social media. Perrie is a massive success in her own right with Little Mix selling out shows the world over and selling millions of records to their adoring fans.
She is said to be worth upwards of £5 million and when that's combined with Alex's estimated £10 million fortune they look to be a power couple of the future should it all work out. Net Worth: £5-15 Million
Bournemouth
Andriani Michael (Jack Wilshere)
https://www.instagram.com/p/BC0-S_VCzxJ/
In 2014 Jack broke it off with his childhood sweetheart and mother of his two children, Lauren Neal, after she got fed up with his supposed party boy antics. He swiftly moved on to the daughter of his barber, the stunning Andriani Michael.
Jack and Andriani have been engaged since May 2016 when he popped the question during her 25th birthday celebrations. They usually reside in his sizeable Hertfordshire mansion but due to Jack being on a season long loan from Arsenal to Bournemouth they currently temporarily reside on the south coast. Net Worth: £30 Million
Burnley
Kerrie Harris (Robbie Brady)
Kerrie was thrust into the public eye when during the Euro 2016 Championships, she was carried over the crowd so she could embrace her fella, Robbie Brady, after his heroics against Italy. Kerrie & Robbie have been an item since they took their first date in Dublin, as 17 years old's, and the couple now share a daughter named Halle. Kerrie is a dance fanatic who has continued with a career as a choreographer despite Robbie's massive footballing wages. Net Worth: £5 Million
Chelsea
Daniella Semaan (Cesc Fabregas)
https://www.instagram.com/p/BSZFM_zDoZh/
Cesc and Daniella's romance was originally played out in the courts as she was married when they first met. Her husband was fighting an order saying he had to sell his home and give Daniella part of the proceeds – It actually transpired that the house in question received a bid from Cesc at over £2 million below the market rate. The pretty Lebanese-native is 11 years older than Fabregas, not that she looks it. Their relationship has gone from strength to strength and they have 3 children together; Lia, Capri and Leonardo. Net Worth: £30 Million
Crystal Palace
Kayla Cadorna (Conor Wickham)
https://www.instagram.com/p/BNP6aFEAyLW/
Conor Wickham has always struggled to score goals and play games consistently for the clubs he's been at but he certainly scored with Kayla. Kayla's eye-popping body art and stunning looks has won her an army of fans around the world and on top of all of that she's also a Fire Performer – I'm not sure you can get any hotter than that.
With Conor still on the books of Crystal Palace, earning in excess of £60,000 a week you can be sure that they lead a pretty amazing life. Net Worth: £6 Million
Everton
Zoe Riozzi (Ross Barkley)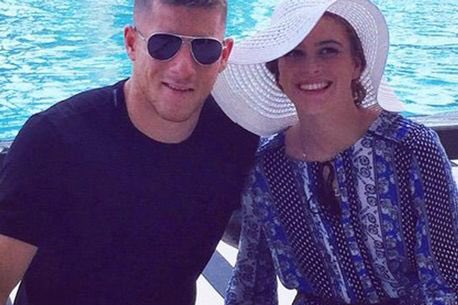 Zoe Riozzi and Barkley have been an item since they were at school and the flame haired beauty hasn't let her fellas astronomical wages get to her head.
While Ross is the focal point for the thousands of fans of Everton FC, nursery worker Zoe still clocks in to her work as any other 9-5er would. She drives a fairly modest Fiat 500 too considering the "mega bucks" Ross brings to the table. Net Worth: £5 Million
Hull City
Rachel Peters (Ryan Mason)
Ryan Mason & Rachel Peters have been engaged since November 2016 and have been through a tough start to 2017. Ryan suffered from a fractured skull in a match against Chelsea in January but has had Rachel by his side nursing him back to health.
Rachel is not the run of the mill WAG though, she graduated from the University of York in 2015 with a degree in Economics. Net Worth: £3 Million
Leicester City
Rebekah Vardy (Jamie Vardy)
https://www.instagram.com/p/BOAnx1mDS1H/
Mrs Vardy is like Marmite, you either hate her or can't stand her (sorry not a fan of Marmite). Jamie Vardy had a massive 2016 with people the world over impressed by his rags to riches story and Rebekah has been there the whole way riding the crest of Jamie's wave. She met Jamie whilst a nightclub promoter and soon the pair were inseparable, moving herself and her two children from different dads in with him.
Rebekah, who once bedded Peter Andre and sold the story about it to the now defunct tabloid News Of The World, and Jamie were married in May 2016. Net Worth: £10 Million
Liverpool
Larissa Pereira (Roberto Firmino)
https://www.instagram.com/p/BQbVSWjF1Rk/
Larissa and Roberto met each other in a night club in 2013 and they were married in 2014 before having a child together. The Following year Roberto was purchased by Liverpool and Larissa made the move to Merseyside with him.
The stunning blonde was left red faced during Roberto's time in Germany, with the Brazilian attacker posting a picture to his Instagram that accidently included a full unhindered view of his wife's lady region. Net Worth: £8 Million
Manchester City
Ludivine Sagna (Bacary Sagna)
https://www.instagram.com/p/BPxlU_FAJop/
Auxerre native Ludivine and Bacary were married in 2010 and have two kids together. She followed her beau when he traded in the red of Arsenal for the blue of Manchester City.
With Bacary's wage at Manchester City likely to be well in excess of £100,000 a week I'm sure they don't have to scrimp on much in life.
Undoubtedly a gorgeous lady, Ludivine is a model and loves nothing more than sharing a juicy snap to her social media. Net Worth: £16 Million