Former head coach of the Indian cricket team Anil Kumble's resignation from the coaching position compelled fans to take to micro blogging site Twitter and asked for a change in captaincy.
The moment after Kumble announced his retirement from coaching role, a few Indian fans expressed their frustration towards the Indian skipper Virat Kohli and blamed him for the 46-year-old's resignation.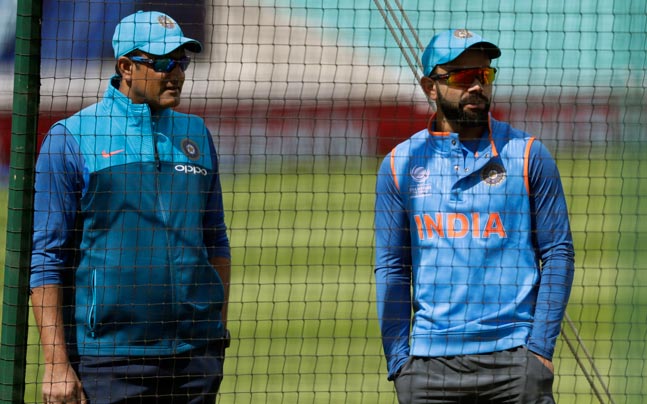 Some fans wanting Wicketkeeper batsman Mahendra Singh Dhoni to return as captain.
India's defeat to Pakistan in the ICC Champions Trophy finals was another reason for reaction and demand for a change in captaincy.
Here are some of those reactions..
Sad to see Anil Kumble resign. That's why Dhoni would always remain the best captain ever. Kohli too much attitude n arrogance.

— Kanhu (@IMKANHU) June 21, 2017
Can Someone Please Review Anil Kumble's Resignation And Bring MS #Dhoni Back As Captain Instead? 😢

RT If You Agree! Miss You #AnilKumble 🙏 pic.twitter.com/GqEJa76e5l

— Sir Jadeja fan (@SirJadeja) June 20, 2017
Dhoni ko captain bana do sab theek ho jaega 😁 #KUMBLEVSkOHLI

— Vijit Mahaur (@Vijit_Mahaur) June 21, 2017
M.S. Dhoni was 100 times better captain the Virat Kohli.
Virat Kohli is 100 times more arrogant than M.S.Dhoni.

— Aniel Srivastav (@anielsrivastav) June 21, 2017
I would like to say Ms Dhoni should be captain of Indian Cricket Team again because he's a legend and he isn't like Virat Kohli in attitude

— Vipul Singh 🇮🇳 (@VipulSingh09) June 21, 2017