We look at the FA Cup odds based on the WAGs of the team players. Here is a list of wives and girlfriends who are worth more than their Premier League playing partners.
Arsenal
Perrie Edwards (Alex Oxlade-Chamberlain)
Little Mix's Perrie Edwards & Arsenal FC's Alex "The Ox" Oxlade-Chamberlain have been an item since November 2016, as confirmed by the numerous PDA sessions on social media. Perrie is a massive success in her own right with Little Mix selling out shows the world over and selling millions of records to their adoring fans.
She is said to be worth upwards of £5 million and when that's combined with Alex's estimated £10 million fortune they look to be a power couple of the future should it all work out. Net Worth: £5-15 Million
Bournemouth
Andriani Michael (Jack Wilshere)
In 2014 Jack broke it off with his childhood sweetheart and mother of his two children, Lauren Neal, after she got fed up with his supposed party boy antics. He swiftly moved on to the daughter of his barber, the stunning Andriani Michael.
Jack and Andriani have been engaged since May 2016 when he popped the question during her 25th birthday celebrations. They usually reside in his sizeable Hertfordshire mansion but due to Jack being on a season long loan from Arsenal to Bournemouth they currently temporarily reside on the south coast. Net Worth: £30 Million
Burnley
Kerrie Harris (Robbie Brady)
Kerrie was thrust into the public eye when during the Euro 2016 Championships, she was carried over the crowd so she could embrace her fella, Robbie Brady, after his heroics against Italy. Kerrie & Robbie have been an item since they took their first date in Dublin, as 17 years old's, and the couple now share a daughter named Halle. Kerrie is a dance fanatic who has continued with a career as a choreographer despite Robbie's massive footballing wages. Net Worth: £5 Million
Chelsea
Daniella Semaan (Cesc Fabregas)
Cesc and Daniella's romance was originally played out in the courts as she was married when they first met. Her husband was fighting an order saying he had to sell his home and give Daniella part of the proceeds – It actually transpired that the house in question received a bid from Cesc at over £2 million below the market rate. The pretty Lebanese-native is 11 years older than Fabregas, not that she looks it. Their relationship has gone from strength to strength and they have 3 children together; Lia, Capri and Leonardo. Net Worth: £30 Million
Crystal Palace
Kayla Cadorna (Conor Wickham)
Conor Wickham has always struggled to score goals and play games consistently for the clubs he's been at but he certainly scored with Kayla. Kayla's eye-popping body art and stunning looks has won her an army of fans around the world and on top of all of that she's also a Fire Performer – I'm not sure you can get any hotter than that.
With Conor still on the books of Crystal Palace, earning in excess of £60,000 a week you can be sure that they lead a pretty amazing life. Net Worth: £6 Million
Everton
Zoe Riozzi (Ross Barkley)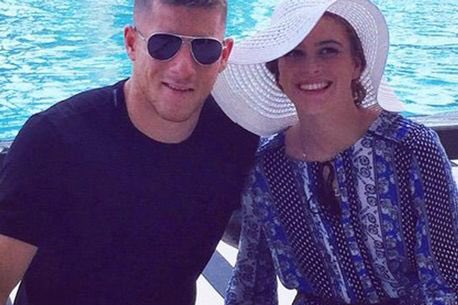 Zoe Riozzi and Barkley have been an item since they were at school and the flame haired beauty hasn't let her fellas astronomical wages get to her head.
While Ross is the focal point for the thousands of fans of Everton FC, nursery worker Zoe still clocks in to her work as any other 9-5er would. She drives a fairly modest Fiat 500 too considering the "mega bucks" Ross brings to the table. Net Worth: £5 Million
Hull City
Rachel Peters (Ryan Mason)
Ryan Mason & Rachel Peters have been engaged since November 2016 and have been through a tough start to 2017. Ryan suffered from a fractured skull in a match against Chelsea in January but has had Rachel by his side nursing him back to health.
Rachel is not the run of the mill WAG though, she graduated from the University of York in 2015 with a degree in Economics. Net Worth: £3 Million
Leicester City
Rebekah Vardy (Jamie Vardy)
Mrs Vardy is like Marmite, you either hate her or can't stand her (sorry not a fan of Marmite). Jamie Vardy had a massive 2016 with people the world over impressed by his rags to riches story and Rebekah has been there the whole way riding the crest of Jamie's wave. She met Jamie whilst a nightclub promoter and soon the pair were inseparable, moving herself and her two children from different dads in with him.
Rebekah, who once bedded Peter Andre and sold the story about it to the now defunct tabloid News Of The World, and Jamie were married in May 2016. Net Worth: £10 Million
Liverpool
Larissa Pereira (Roberto Firmino)
Larissa and Roberto met each other in a night club in 2013 and they were married in 2014 before having a child together. The Following year Roberto was purchased by Liverpool and Larissa made the move to Merseyside with him.
The stunning blonde was left red faced during Roberto's time in Germany, with the Brazilian attacker posting a picture to his Instagram that accidently included a full unhindered view of his wife's lady region. Net Worth: £8 Million
Manchester City
Ludivine Sagna (Bacary Sagna)
Auxerre native Ludivine and Bacary were married in 2010 and have two kids together. She followed her beau when he traded in the red of Arsenal for the blue of Manchester City.
With Bacary's wage at Manchester City likely to be well in excess of £100,000 a week I'm sure they don't have to scrimp on much in life.
Undoubtedly a gorgeous lady, Ludivine is a model and loves nothing more than sharing a juicy snap to her social media. Net Worth: £16 Million
Manchester United
Sam Cooke (Chris Smalling)
Chris Smalling's rise to the top has been slightly different from most, with Fulham trading a few tracksuits for him a few years back. A massive move to Manchester United followed and long with that came attention from the ladies.
Chris met Sam shortly after and they have since become engaged to be married. Sam is a glamour model and used to grace our papers as a regular fixture on Page 3. Net Worth: £8 Million
Middlesbrough
Yolanda Cardona (Victor Valdes)
Yolanda Cardona is a Colombian model originally hailing from a town more famous for its coffee than anything else she then moved to Barcelona to begin her career as a model. It's in Barcelona where she met Victor and they began a relationship. They have two sons, Dylan and Kai and a daughter named Vera.
They are now based near Middlesbrough with Victor their #1 stopper. Barcelona to Middlesbrough, what a path to take. Net Worth: £18 Million
Southampton
Bianca Parker (Charlie Austin)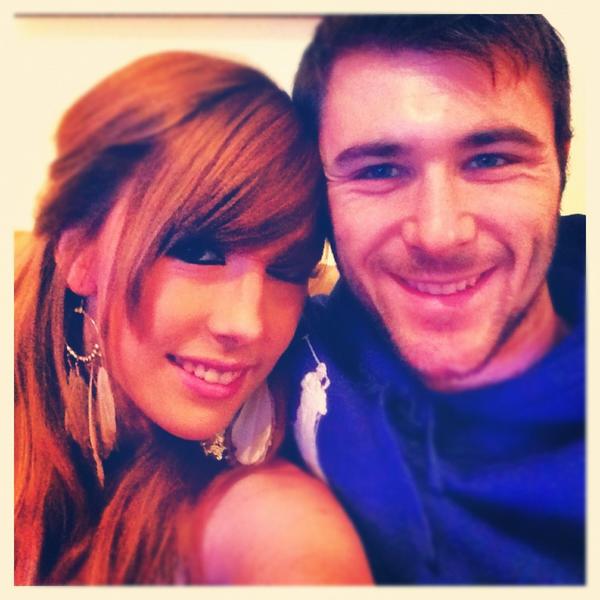 Bianca Parker and Chaz Austin have been together for years and have shared in some heartbreaks as well as happy times. Bianca gave birth to their stillborn daughter in 2010 as she from the most severe case of cerebral palsy.
Happier times followed and they were married in 2015 at Highclere House, the location where Downtown Abbey is filmed. They then jetted off to the Maldives shortly after on their honeymoon. Net Worth: £7 Million
Stoke City
Abbey Clancy (Peter Crouch)
Abbey Clancy is one of a couple on this list who can probably say she is the more famous name in the relationship. A successful glamour and catwalk model Clancy is also a household name for her work on the Next Top Model series on TV.
Peter Crouch is adored by football fans across the country for having "pretty good feet for a big man", his robotic dancing and his hilarious response when asked what he would be if he wasn't a footballer, where he answered "a virgin". Classic Crouchy. Net Worth: £20 Million
Sunderland
Erin O'Neill (Fabio Borini)
Erin and Fabio met during his first few days in Liverpool and have become inseparable ever since. Erin is an internationally published model who works 5-6 days per week so she definitely has a great work ethic to match Fabio's industrious playing style.
Fabio has since moved clubs to Sunderland and with their impending relegation to the second tier they may well be on their way out of the North East sooner rather than later. Net Worth: £5 Million
Swansea City
Xenia Schipaanboord (Leroy Fer)
Xenia is probably just as famous for being Leroy's partner in life as she is for her hilarious first dance wedding video. Leroy and Xenia wanted to surprise their wedding guests so came up with a brilliant choreographed routine. The video went viral and was seen by millions. Net Worth: £5 Million
Tottenham Hotspur
Katie Goodland (Harry Kane)
Katie met Harry whilst they were both at school and even tried her hand at being a footballer too, playing for the Tottenham Hotspur ladies youth teams. It seems as though she wasn't as successful as her beau though as she is now a fitness instructor. Katie gave birth to the couple's first child, Ivy, in January 2017 and was back in the gym less than a month later. Commitment. Net Worth: £6 Million
Watford
Georgina Dorsett (Tom Cleverley)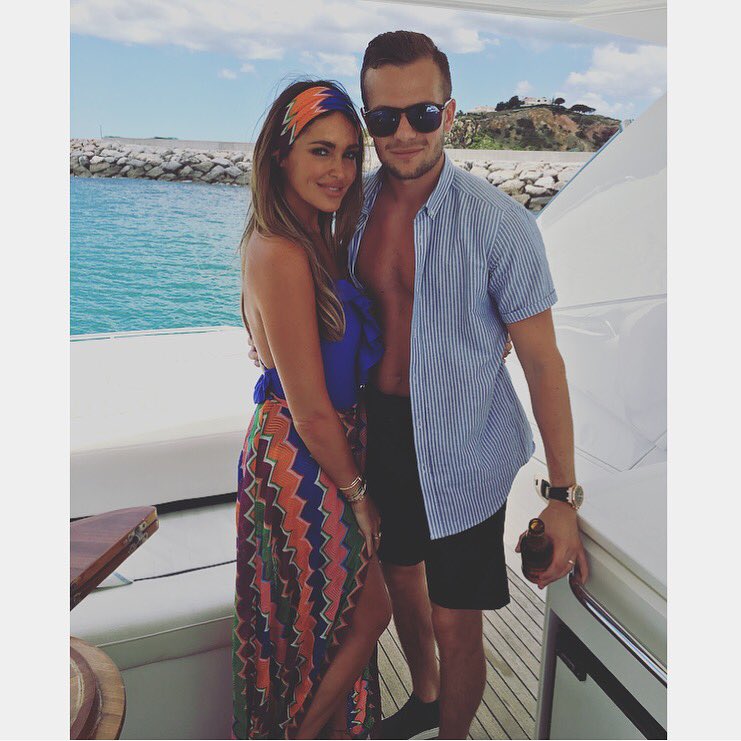 Retired TOWIE personality Georgina and Tom have been an item since 2012, meeting through a mutual friend. They were married in 2015 and have since had 2 children; Albie and Nevaeh Cleverley. 
Although Georgina was on TOWIE for just one season and left pretty abruptly she is always referred to as TOWIE's Georgia Dorsett- Let's hope any future career endeavours are more successful than Tom's footballing career where he has been passed around 7 times already. Net Worth: £7 Million
West Bromwich Albion
Helen McConnell (Jonny Evans)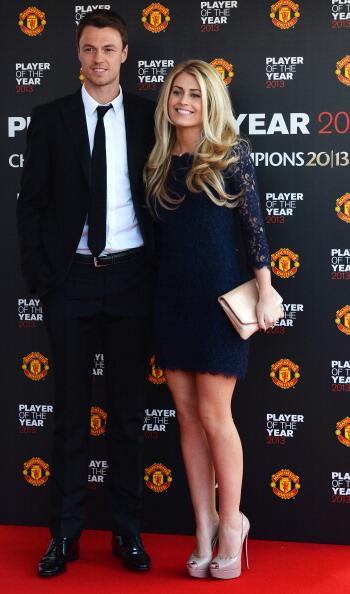 As a Model and presenter on MUTV (presumably where she and Jonny met) Helen definitely doesn't rely on Jonny's massive wages to support herself.
The couple married in a lavish ceremony in the Irish village of Clough, at the Clough Presbyterian Church, in June 2013. The couple share a daughter together names Lottie, born in May 2014. Net Worth: £11 Million
West Ham United
Billi Mucklow (Andy Carroll)
Another Ex-TOWIE cast member on this list, Billi was on the show for 49 episodes and last appeared in 2013. The couple were engaged in 2014 and welcomed a son named Arlo into the world in 2015 to go with Carroll's two children from previous relationships; Emilie Rose and Lucas.
Andy was well known for his party-boy lifestyle earlier in his career but looks to have calmed down now. They both now live in Brentwood, Essex.  Net Worth: £18 Million