Reports suggest that Liverpool are interested to lure Austrian keeper Alex Manninger to Anfield on a one-year deal after the 39-year old veteran began training with Jurgen Klopp's side.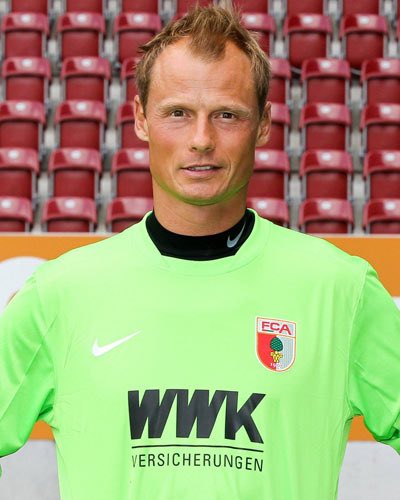 The shot-stopper was released by the German side Augsburg at the end of last season, but it seems his next move could be at the Merseyside outfit.
According to The Times, Manninger is set to become the Reds' new third choice keeper – behind Loris Karius and Simon Mignolet in the pecking order.
Former Arsenal keeper Alex Manninger is training with Liverpool with a view to becoming 3rd choice behind Karius and Mignolet.

— Tony Barrett (@TonyBarretTimes) July 11, 2016
Liverpool supporters were surprised with the news and took to twitter to express their shock reactions.
Alex. Manninger. WOW.

— wez (@Wez1990) July 11, 2016
Alex Manninger ???? pic.twitter.com/YQlfMUAYSp

— Tim Parry (@timdogg03) July 11, 2016
Alex Manninger to become 3rd choice goalkeeper at LFC? Btw, he's 39. What's going on here.

— Aliff Hazwan (@AlepHazwan) July 11, 2016
Alex Manninger? Now there's a blast from the past.

— Rosicky (@RobbieSteely) July 11, 2016
Alex Manninger ? Haven't heard that name since I was about 15 ????

— Michael Flanagan (@flanners85) July 11, 2016
Alex Manninger. What is going on! ????

— Alex Vaisey (@OfficialAVaisey) July 11, 2016
Alex manninger tho ????????????????????????

— joe westhead (@joewesthead21) July 11, 2016
Jesus Christ. Alex Manninger, what a blast from the past. This is how I remember that fella. pic.twitter.com/8GM9CEipwn

— Mick Moran (@m1cklfc) July 11, 2016
Alex Manninger training with Liverpool #LFC ???? pic.twitter.com/FTncia9N3K

— Dizzle (@DAVEY_DIZZLE) July 11, 2016